5 Excuses to Keep Young Kids Out of the Kitchen
&
6 Ways To Get Them In There Anyway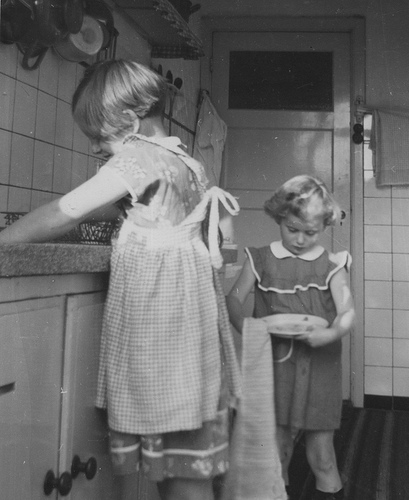 For all of the personality tests that exist, you could save yourself the time by answer a single question:
When you have young children "helping" you in the kitchen …
1) You find yourself laying on the floor and smearing raw cookie dough on each other, laughing at knock-knock jokes.
2) You discuss the rules, sing the handwashing song with each child, and then have them stand in line for their turn to stir the dough a quarter-turn each.
3) You have individual meetings with each child to determine which steps in the baking process are most satisfying to him or her personally, discuss the possibility that there will be overlap with the other children, and then you singlehandedly eat an entire tray of cookies to assuage your parental guilt that someone stormed off because of hand-mixer envy.
4) You open a store-bought roll of cookie-dough and hand them each a spoon, avoiding the kitchen entirely.
Yes, those are the four personality types, and for as much as they may sound like a caricature, my husband and I represent (precisely) two of the four listed above. I am not about to 'fess up and tell you which ones we are, but if you did need the words to the handwashing song I might be able to help you out. Just sayin'.
I know that there is a wide berth of "cooking with kids" style cookbooks and blogs out there. Great, have at it. You really won't find that here. I will tell you why—I highly cherish and prize the passing on of skill from one generation to the next, imparting both passion and pleasure to the children for all things food. I just simply do not feel successful at it where small kitchen appliances are involved. I cannot give advice. I can pass along some "kid-friendly" recipes from time to time or tell you which ones my kids enjoy making most (like my most-amazing homemade pasta, for instance). It does not mean, however, that I am overly comfortable with young kids in the kitchen on a daily basis. Oh, I have tried to change, I really have. I chalk it up to temperament.
Here are my reservations (read: excuses) for why it is difficult for me:
1) Young children tend to be underfoot. I carry hot things, grease-spattering things, and sharp pointy things through my kitchen routinely.
2) Young children start out with interest which quickly wanes when they discover they cannot lick the spoon until we are completely finished. Then I have two choices: a) having them underfoot and playing instead of full participation (see #1), or b) let them leave the kitchen and come back every 3 minutes to see if spoon-licking duties have commenced (along with their father).
3) We are quite unlike the typical American family in that we have sibling rivalry. In our home, everyone wants a job that someone else is doing.
4) The mess. It seems that I have passed this on genetically; I do believe the Messy Kitchen DNA is strong, as I inherited it from my Mother's side myself.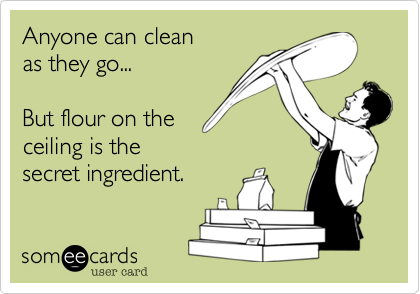 5) The distraction. I am so easily distracted. I am typing this blog while enduring the smell of burnt cookie; thus, the reason I am writing this blog in the first place.
Do you relate? If you do not get this at all, and you find your kiddo-kitchen-time to be the joy of your culinary life—share your tips below! I so envy you. I have these romantic notions of it but I cannot seem to let go of my insanely acute nose-picking sensor that leads me to banish each child to the kitchen sink throughout the entire cooking process. Indeed, it is The Walk of Shame.
These are the things I have learned, so if you are anything like me at all maybe these tips might help:
1) Utilize the childless Auntie. Or Friend. They will love the time to bond with your precious lil' pumpkin and you can snap pictures. Believe it or not, kitchen-time with kids before I had my own created some of the fondest memories I have—all with other people's children of course. And my kids have enjoyed the opportunity to get in the kitchen with others, too.
2) Make food part of the daily conversation. My kids know more about ethical food practices than 97% of the adults I know. We talk about it. We talk about flavors and ethnic foods. We taste test and try new things, and we have the rule in our house, "You don't have to like it, but you have to try it."
3) See Food from Beginning to End. Garden with them. Plant seeds and watch them grow. Educating your child about the kitchen should start with the ingredients, life cycles, and the tangible rewards that come from dirt under the fingernails. "Food Time" should not be limited to my most awesomely perfect chocolate chip cookies, you know. And (apart from the burnt ones on my stovetop at the moment) my chocolate chip cookies are awesomely perfect. In case you doubted.
4) Process the Harvest. This does not always mean cooking! My kids snap the peas, shuck the corn, de-seed, peel, soak, blend, use the handheld nut chopper, arrange on dehydrator trays, vacuum seal, wash, scrub, crack eggs, stir, grease the pans, whew! They do a lot. They love it and I appreciate the togetherness of family-food-processing.
5) Traditions. We have a few. The one that happens weekly around here is on bread baking day. I refuse to use a turbo-charged whirring whizz-bang mixer to knead my bread dough. I must know that dough's texture by feel. This is how I do it perfectly every time: for the amount of dough I routinely make, singing The Lord's Prayer through three times is THE secret. It just is. Quirky, okay, but I'm telling you it works. Anywho…the kids will be playing in other rooms when they hear me start in. They come running and sing with me, taking turns getting their hands gooey too.
If you were to ask my kids about kitchen traditions, they would quickly mention birthdays. The birthday kid makes a cake (or brownies or cupcakes—birthday kid's choice) with mom. No one else. Just mom and that super-special birthday kid. Traditions etch the memories deep into hearts and minds, creating a special thing shared just within your own family.
6) Family Night. Maybe this should go under "traditions" but it is a bit different in that you are not cooking simply to appease the masses of hungry tummies. The cooking is the family night. It's not pizza for a movie night (which requires the movie start by x pm, lest we stay up way too late). It is "make your own pizza" night—or Mexican, or breakfast for dinner, you name it. We absolutely love the kitchen projects in which there is no time limit, no distractions, and no pressure. If the point of the evening is the food and you let go of the stress of timing, you will enjoy the experience far more. These are great times to share your cultural heritage with your children, telling them stories about how Nonnie used to hang pasta over the chairs, or how Oma used to boil her own chicken stock down for her signature noodles.
And on that note, I must now go chisel the burnt cookie from the pan. I may have to indulge myself in a few to assuage my parental guilt while I am at it. At any rate, at the end of a messy kitchen, I know that –whatever my temperament—my kids will have the opportunity to learn from me. Let's teach a new generation.
My hair smells like burnt cookie,
Chaya
P.S.–That's Bug using the Vegetable Scrubber, such a cheap little thing & it really motivates them to jump in and help!

---
---
Photo Credits:
Girls washing dishes: theirhistory via photopin cc
Short order giraffe: Mitchio via photopin cc
All Other photos not listed above are property of Pantry Paratus. Feel free to share, pin, or tweet them, but please keep them as a link to this blog with proper attribution. Thanks!