Lunch need not be elegant, and I cannot remember any time where I needed a cork screw for a lunch meal. If you are making a habit of eating healthy then you will notice an accumulative effect over time and you can add more variety into your diet. Keep in mind variety in the context I am using it does not include individually wrapped sugary snack cakes.
If I have leftovers, then I am pretty keen to take them to work. But sometimes the well runs dry and you need to look for other options. So, what is for lunch? I like the old standby—the sandwich. Now, every sandwich starts out with bread and if you want a good sandwich you need to have good bread. To me, the gold standard is Chaya's bread hands down it rocks. It is hard to be in a bad mood on baking day.
But traveling can be tough, and for business I do go to and fro. So while on the road I buy the Ezekiel bread which is baked by Foods for Life. Its ingredients label is beautiful simplicity and can be read by most second graders. Sprouted grains without preservatives means that you are going to look for it in the freezer section. If you are not baking your own bread, this is the next best thing.
Next stop is the toaster. Just a light brown is good for me. Feel free to skip this step.
Now, since I am minimizing my trash output wherever I can, I am just going to use a bowl. Not very sleek, but it all fits in the reusable shopping bag that doubles as my lunch bag.
What you put next will determine what kind of sandwich you end up with, no big revelation there. I choose the fattier cuts of meat like liverwurst or salami. I hope that we are all past the ultra-lowfat diets of the 80's & 90's now. You body needs (the right kinds of) fat. I was also inspired by Anne Marie Michaels' Q&A post (see item #5) about the connection between organ meats and straight teeth. If you do not read Cheeseslave, trust me she is the real deal.
I also like to put a fried egg (fried hard) on there, just my preference.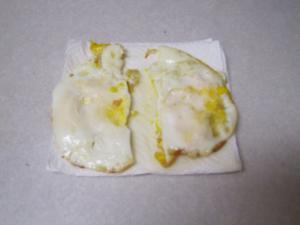 And start stacking . . .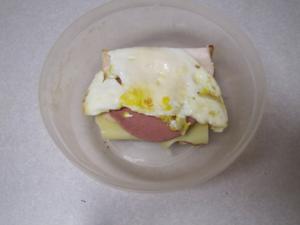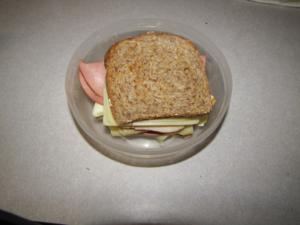 Admitedly this sandwich did have a Dagwoodesque profile. But while soaking up some nice spring weather outside on the bench people passing by did comment on how good it looked. "Go big or stay home when it comes to sandwiches," I say.
So what about mayo? I try to be neither a food snob nor a blind consumer, so there are some places where I just draw a line. I am an olive oil kind of guy, so I may sprinkle a a bit over the top at the end. But if you choose the fattier meat cuts then you have something to counteract the dryness of the toast. Besides, most mayo is typically made with highly processed industrial seed oils—not good for the body.



Next up is yogurt. I like to shop at the ethnic food stores when I can because you can generally recognize with the eye that the things you are looking at are food. Think about that for a second, if it comes in an opaque box and you were not able to read, would you know that it was food immediately? Also the items are generally less expensive and you can pronounce everything on these two labels.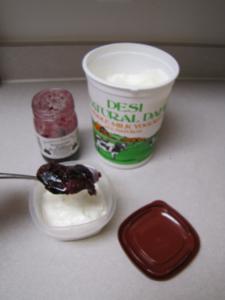 I just buy the plain whole milk yogurt and then mix a spoonful of the local fruit preserves into the container—viola! All the yummy yogurt and no high fructose corn syrup.

I save all of my glass jars to get used for something somewhere. In this case I brought some vegetable juice with me today. I also like to make up a bunch of individual jars of sun tea in the summer time then just take the jar with me to work. Either way, stay out of the vending machine or the soda fountain and your body will thank you.

Lastly I took a piece of fruit. I just stick in the bowl and it nests nicely inside the bag.
Other substitutions might be: nuts, cheese, crackers (the good kind), fruit leathers, etc. The possibilities are nearly endless.

So avoid the drive thru and take your lunch with you in order to be healthy and save money. To be fair you could graze the extra value menu and probably fill the void in your tummy for about the same amount that I have invested in this meal (~$2.50), likewise you could bring some pre-packaged frozen lunch that is loaded with unhealthiness. The fact that you brought it with you does not make it cheap and healthy by necessity. But with a little planning you can work in variety and really balance that diet.

So, what is your favorite take-along favorite? Leave a comment below.

Wilson
Pro Deo et Patria


Photo Credits:
All photos by Pantry Paratus