We know why we choose this crazy homesteading life, but during the ride of it all, have we learned anything? Here are a few of mine; please leave a comment below and tell us some of the homesteading lessons you have learned along the way.
#1:     

Never carry eggs in your pocket.

 
Sure, you have your hands full, but go back for the egg basket.  Trust me.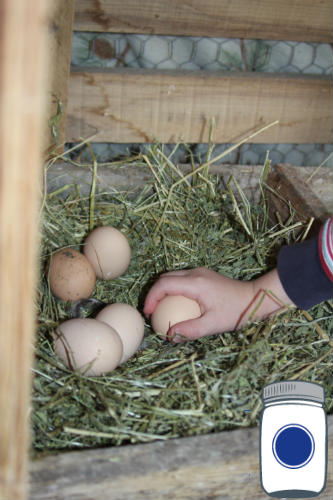 #2:   

Chickens snore. 
It's true.  They also get the hiccups when they eat too fast.
#3:   

Enjoy the weather for what it is.

 
It will never align perfectly with the to-do list you had planned, but go with it.  If fencing is out because of rain, then maybe it's a sewing day instead.  You're along for the ride.
#4:

  Neighbors are important for more than just unloading too much zucchini.

 
There can be a mutually beneficial—symbiotic, really—relationship that makes every individual stronger than they would be otherwise.

But…if you find yourself with too much zucchini, we have a few suggestions for that, too.
#5:

    

Manicured lawns are a serious waste of time.  And space.

 
If you live in the city or suburbs, consider a book about edible landscaping (psst…I know-a-guy)…
#6:   

Over-plant.

 
Next year, you might not get any.  Overplant, give away, and preserve extra, just in case.
#8:    

Dirt roads seemed romantic at first, but…no. 

 
Drive slowly or leave pieces of your car's underbelly in the dust behind you.
#8: 

Kids are underestimated.

 
At least, mine were.  They are smarter, faster, stronger, and more resilient than I ever would have guessed.  They are more adaptable and harder working than I gave them credit. They jump in with both feet, and even have better ideas sometimes.  You don't have to homestead to learn this about your own kids–but it is what it took for me to see it.

#9:  

  Always have a back-up plan. 
The new animal pen might get a hole in the fencing, the rains might soak the hay, the mice might get into your stash of heirloom seeds in the potting shed. 
#10:

To admit failure. 
And to be okay with failure.  I cannot do everything, and what I can do is far from perfect.  But I tried.
Read about my most recent failure here (and this one landed me in the hospital).
 Don't miss: Homesteading: 10 Reasons Why I Bother. 
Want to learn more about homesteading? Check out our many great resources available through the "By Skills" menu on the right, or by clicking onto our "How-To's & Why-To's".  
---
Photo Credits:
All photos, unless otherwise stated are property of Pantry Paratus.  Please feel free to share them on your social media but please keep proper attribution.
zucchini:neil conway via photopin cc