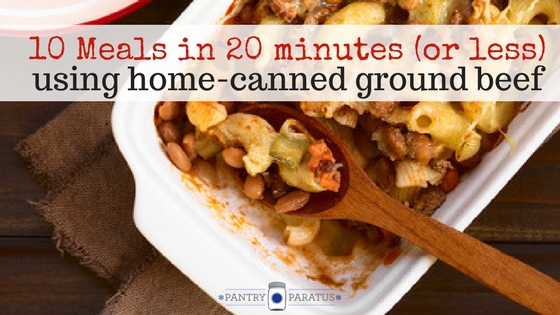 Fewer skills more relevant to the family with a hectic schedule than taking time to pressure-can healthful foods for last-minute meals.  One jar of ground beef can create fifteen different meals in fifteen minutes or less.
Many of these meals allow for working ahead, either over the weekend to prepare for the upcoming train about to hit you come Monday morning.  Sometimes, I just spend 10-20 minutes the night before prepping, so that it's as easy as popping it into the oven (which someone else can do without me, even).
Not sure about canning ground beef? You can learn how here.  We have been doing this for about 7 or 8 years, and these are some of my favorite last-minute dinners!
#1) Tacos any day of the week!  Have lettuce, tomatoes, cheese, and toppings prepped the night before; heat the ground beef and have tacos in 5 minutes!
#2) Spaghetti with meat sauce in 15 minutes.
#3) Sloppy Joes (add onions, chopped green pepper, spices, and tomato sauce)
#4) Make chili: use pressure-canned beans, add dehydrated onion, spices, and your other secret ingredients in the time it takes to warm it up (5-10 minutes).  Or, if using dry beans, make chili in your pressure cooker (cooker, not canner) in 10 minutes!
#5) Nachos—arrange chips on a baking dish.  Add refried beans if desired, ground beef, salsa, and cheese.  Bake for 10 minutes or until the cheese is bubbling.
#6) Shepherd's pie. Saute onions, mushrooms, and add your favorite vegetables. Warm up the beef in the concoction and add tomato sauce. Once mixed, put into a dish and top with mashed potatoes and bake for 20-30 minutes—but to make this faster, you will need to use last night's leftover mashed potatoes, warm everything sufficiently in the skillet, and broil for 10 minutes so that potatoes brown and get crisp (without fully baking).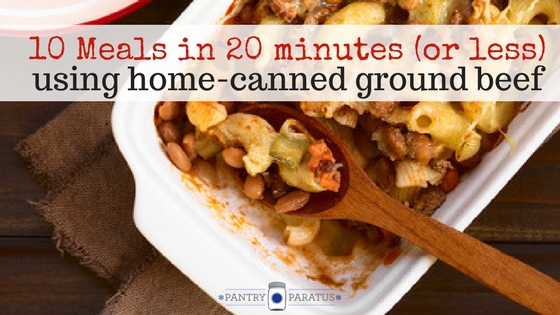 #7) Beefy Enchiladas.  They will require tortillas, enchilada sauce, chili peppers, cheeses, and your other favorite ingredients on-the-ready.  But once you're ready for the assembly line, you can make them  in about 20 minutes in a 400 degree oven.  Be generous with the sauce and cheese on top!
#8) Baked Potatoes with all the fixin's.  I spend about 45 minutes baking potatoes to get them nice and crispy on the outside, but I always do extra for another meal!  If already cooked, you can split them, add your favorite toppings (including beef and cheese), and broil them for a 15 minute prep-and-serve time.
#9) Mexican Salad—have the salad made ahead, even!  Add beef and salsa to your salad, with a few corn chips on the side.
#10) Korean Beef & Rice—simple and delicious, go ahead and make your favorite rice your favorite way.  While that is cooking, sauté onion and garlic in a skillet and add the meat.  Then, add amino acids (or soy sauce if you prefer), grated fresh ginger, brown sugar, and red pepper flakes.  Play with the measurements yourself to make it as spicy as you can stand it! Serve over the rice.  Green onions on top look nice, and a sliver of ginger on the side is down-right fancy, all in 15 minutes!