5 Words or Less
Why You Produce, Prepare, & Preserve the Harvest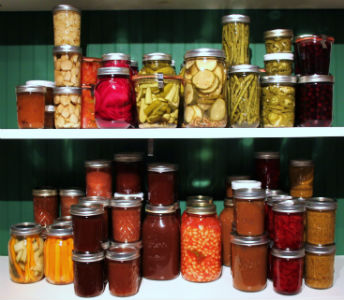 We love the security that comes with knowing there is food for a "rainy day"—for ourselves and for neighbors going through a tough time. We love the fence-line conversations with those neighbors about the kind of year it is for tomatoes and then swapping a few for those gorgeous cucumbers we were admiring. We love the family time, the simplicity, and the education. We love the health, the energy, and that the odds are no longer stacked against us for health and longevity. And we love the price tag for a packet of seeds, especially in light of the price tag on the food in the grocery store.
These are the things that inspire us here at Pantry Paratus to do what we do. This is why we produce, prepare, and preserve the harvest.
We recently did another spectacular giveaway and as part of entering, we asked everyone this question:
Use no more than 5 words to tell us why you produce, prepare, or preserve the harvest.
It appears that we have much in common, regardless of age, location, gender, or ethnicity. Many answers repeated over & again, and we agreed with every single one of them.
This is what you said:
The joy found in homemade!
For the Joy of Creation.

It's fun & rewarding.
Fresh.
Better Food.
Taste.
No Better Taste or Nutrition.
Love the taste and freshness.
Homemade tastes so much better!

It makes me feel good.
Soul Satisfaction.
To live a meaningful life.
Peaceful life-giving adventure.

Living example for my children.
Feeding family while imparting knowledge.
To prepare like grandmothers did.
Celebrating history, remembering the past.
Food Security.
Peace of Mind.
To be more self sufficient.
Self-sustenance.
Security.
Good Stewardship.
For efficiency, safety, and empowerment.
Use as self-insurance.

Growing food like printing money.
Save money.
Savings!
Frugal Food.

I like knowing what comes into my house and what I am feeding everyone
I want to know the ingredients.
Know what's in food, healthy.
Knowing what's in my food.
Know what I am eating & To know what we are eating.

I know what's in it.
To know the source.
To know the quality of food.
To feed my family well.
Keeps my disabled husband HEALTHY.
Fresh food for my family.
No GMOS and to be healthy.
I want my family healthy.
For my family.
Proverbs 31.
It's best for my family.

Keep Nourishing,
Chaya
---
All photos are property of Pantry Paratus; feel free to pin or share these with a link to this blog and proper attribution. Thank you.
---