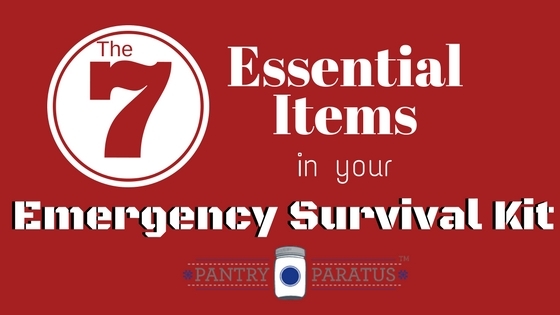 While planning a weekend getaway or a long vacation, you take care of all the things like clothes, shoes, passport, important documents, reservations and accommodation in advance. Once you are done with it, you roam around carefree, of course, it is a human nature. But, fail to think of worst case scenarios which could be in form of accidents or natural disaster. And, if something bad happens, you regret for not preparing yourself in advance. Emergencies can happen anytime and anywhere. Even if you are at home, you should be prepared for such situations to stay safe and ensure survival.
So, how about creating an emergency survival kit? You just need to have these seven essential things to deal with any sort of emergencies.
1.    Food
Food is one of the most important things you should pack in your survival kit. Carry a minimum of 3-day's supply of non-perishable food items with a longer shelf life. Keep checking their expiry and should replace them annually to ensure you are not consuming expired food. Include freeze-dried food and handy food bars in your kit. And, if staying or traveling with babies or pets, carry baby food and formula along with pet food.
2.   Water
To some extent life is possible without food but not without water. In such emergency situations, where you find shortage of food, water will make up for it. Not only this, but also water will be used for purposes like cooking and washing hands. Carrying three gallons of water per person according to 3-day supply is recommended. In case of bottled water, make sure it is not too old.
3.   Shelter and Warmth
Weather can be ruthless at times especially when you are away from home and don't have stacks of clothes to change everyday. So, include a tent, vinyl tarp sheets, sleeping bags, rain ponchos, blankets, body warmers in your kit. All these will help you provide a shelter and protection from harsh weather conditions.
4.   First-Aid
For offering medical treatment, you should be equipped with basic supplies like hydrogen peroxide to wash and disinfect wounds, antibiotic ointment, antiseptic wipes, eye drops, sting relief pads, medicines in form of pain killers, thermometer, bandages, glucose for diabetes patients, cotton roll, scissors and burn gel. In case, if someone gets injured or struggling with any kind of illness, this kit will help.
5.   Sanitation and Hygiene
To set up an alternative for bathroom, you need some basic supplies for your emergency preparedness kit. So, carry a pail to use it as toilet, a toilet seat for toilet and essentials like toilet paper rolls, some extra tissues, paper and bar soaps, sanitary napkins, sunscreen, toothbrush, toothpaste and hand sanitizer.
6.   Lighting and Communication
You are in a helpless situation with no one around. And on top of that, power cut is making things worse. It is time you take out your lantern, battery-operated torch and radio to get some lighting and stay in communication. Also, carry light sticks, lighter, waterproof matches, mobile chargers, extra batteries, GPS navigation device and whistle for signaling.
7.   Survival Gear
Your armor in the kit for emergency purposes involves tools and equipment like strong gloves, multi-function knife, dust masks, fuel, portable stove, manual can opener, plastic sheeting, sturdy rope for towing, shovel and axe.
Other Items for Your Emergency Survival Kit…
Apart from these, you should also carry some cash, sturdy shoes, light-weight hiking boots, fire extinguisher, garden hose for siphoning and firefighting, extra clothing for change and baby diapers. You can add more items to your survival kit but do not miss on these.
To get an in-depth information on emergency survival kit, Look at this informative infographic by More Prepared, survival preparedness expert.
---
Mina Arnao  is the Founder/CEO of More Prepared, the emergency preparedness experts for over 10 years. More Prepared's mission is to help families, schools and businesses prepare for earthquakes and other emergencies.  Mina is CERT trained (community emergency response team) and Red Cross certified. Find her on Twitter, Facebook, & Youtube.