ANNOUNCEMENT:
Pantry Paratus Photo Contest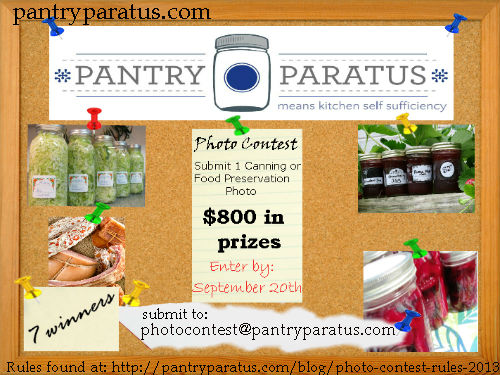 This contest is now closed; the winners will be revealed as soon as they receive and respond to the notification. We will let you know which photos won in approximately 1 week. Thank you.
Here are the details:
We're giving lots of stuff away.
Enter your very favorite food preservation or canning picture (or one of each) to be one of seven winners.
2013 Pantry Paratus Photo Contest

There will be:
Grand–this is worth $200 of Pantry Paratus' best offerings!
There will be 3 winners each in two categories–"Canning" and "Food Preservation":
1st: $150 worth of super-awesomeness, courtesy of Pantry Paratus
2nd: $100 worth of must-have usefulness, thanks to Pantry Paratus
3rd: $50 worth of oh-my-goodness-LOVE-that from Pantry Paratus
For all of the rules, legalities, blah blah blah, check out this link. In fact, if you win, you gotta sign something saying you read it so you might as well do it now (since you know you're going to totally ROCK this contest anyway).
This is what we would ask:
*All entrants must be a US resident 18 or older (void where prohibited)

*That you send a high quality picture. Remember that Pantry Paratus will want to broadcast your talent.
*There are two categories, "Canning" and "Food Preservation," so please only send one picture per category for your email address. In fact, photo-bombing us will disqualify you.
*Get creative! Canning is…well…canning. But food preservation? Well, that could be anything from rendering lard to homemade sausage. It could be your favorite fermentation to showing off your root cellar stash.
*Please label the email or picture so we aren't turning it sideways, wondering exactly what it is that we're staring at; to help us out please put the category ("canning" or "food preservation") in the subject line.
*Get your picture in by September 20th to be considered.
*Email your picture to photocontest@pantryparatus.com

*Not legal enough sounding for you, you can get the official contest rules here.

---
Thanks in advance for sharing our photo contest with your friends.
Please tweet, share, pin, reddit, or whatever-you-do to let people know how they can get recognized for their skills in both the kitchen and behind the camera.

This sweepstakes is listed on ContestHound.com Sweepstakes Directory
/strongfont-size: medium;font-size: medium;