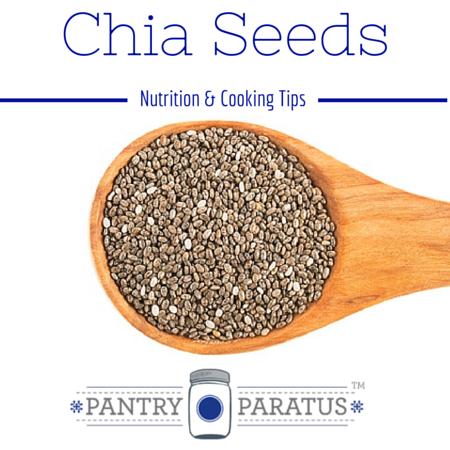 I am a traditionalist in most things, including food; I rarely jump on a bandwagon for the newest healthy thing out there, because most of it is bunk.  But then, in our modern age, many of us are still discovering the traditional foods that other people groups have been eating for centuries.  Such is the case with chia seeds.  This nutty, delicious seed spiked in popularity about a year or so ago and is now falling into the shadows of the latest-coolness; but I do not consider it a "bandwagon" at all—rather, we were all a bit late to the party and shouldn't make an exit too soon.
What are Chia Seeds?
And what if I don't like head-shaped pottery?
Chia is from the plant bearing the botanical name Salvia hispanica L.  It is typically grown in desert climates in places like South America.  Frontier's organic chia seeds that Pantry Paratus is proud to sell come from Argentina; the organic label informs you that they are not genetically modified and are free from chemicals, but the Frontier label informs you that they were ethically harvested and maintain the freshest, highest quality.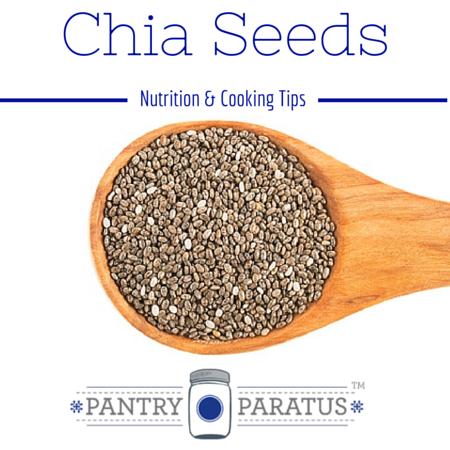 Chia seeds are extremely high in Omega 3 fatty acids, which are difficult to get if you do not eat adequate amounts of seafood.  In fact, chia seeds are higher in Omega 3 than flax.
Chia Seed Nutrition:  Just 1 ounce…
11 grams of fiber (about 42% of RDV)
4 grams of complete (high-quality) protein
Very high in amino acids
18% of your calcium (RDV)
8 grams of unsaturated fat
Vitamins: high in phosphorus and manganese
Chia is sometimes considered a "diet food" because of the high fiber.  That high fiber content swells with proper hydration, triggering that full feeling.  Adding chia to your baked goods or to a salad can help you stop eating when you really should.  You should be alert to this, though.  As with all things, you can get way too much of it.  If you put it into everything you cook or eat, you will cheat yourself of the proper nutritional intake and you can make yourself sick.  For this reason, you should limit chia to no more than one ounce a day–and only then if you are a water drinker!  Too much fiber without hydration will lead to constipation.
Chia Seeds: Cooking Tips
I buy it in bulk from Pantry Paratus and keep it in a mason jar with my baking supplies–so handy! Here are a few things I do with it–did I miss something? If so, please leave a comment and let us know how you like your chia!
Egg Replacement:  Sometimes the girls go on strike and I want to bake when there isn't a summertime egg gluttony.  Mix 1 Tbs of chia with water in a small bowl and let it sit for a minute or two while you assemble other ingredients.  The fiber becomes gelatinous and helps hold your baked products together nicely! Double this for 2 eggs, etc.
Seedy Breads, Bagels, and more:  I mix these with sunflower seeds, sesame seeds, poppy seeds, and others to create that hearty seed bread that deeply satisfies.  Brush the top of your loaf with egg whites to help "glue" the seeds on top.
A pinch into your baked goods: Apart from something with a seedy topping, a pinch inside of your muffins, cookies and other sweet treats does not change the flavor, but can add a nice texture while helping bind the ingredients together.  Feel good about eating just one more cookie. I love to use these in lieu of and in conjunction with poppy seeds.
Salad topping: Summertime salads are a seasonal treat but often leave you wanting something else in only a few hours.  Adding some chia seeds to your dressing or as a stand-alone topping will boost the nutrition by adding protein, fiber, healthy fat, and some vitamins and minerals.
A "shot" or drink: Not for everyone, but a fun treat.  The slime-factor is high at first, but the flavors can pack a punch if you use strong juices.  I put 1 ounce of chia in a cup and add 2 cups cherry juice, fruit punch, pomegranate, or some other strong (preferably tart or tart-sweet) concoction.  This makes a perfect snack because it will fill you up, and it is a great energy drink because of the high protein content.  Kid friendly!
Watch this video explanation of this seed, from farm to tummy: