Cast Iron Cornbread
Our favoritie way to make Cornbread
Cast Iron, such a timeless kitchen implement. Scrambled eggs & bacon, fried catfish, pancakes, there is just something about cast iron cornbread that makes it one of life's simple pleasures with any hardy meal.
Check out our new favorite recipe modified from Ree's original post over at the Pioneer Woman. Cornbread in a cast iron skillet can make an ordinary pot of beans, well, extraordinary. Serve it with honey as a great breakfast option on the go or just serve it along chicken fried steak for a tough-to-beat crowd pleaser.
Here is Ree's original recipe. I modified ours by substituting real lard for shortening and home ground flour for all-purpose flour. In fact, milling regular popcorn for the cornmeal will give you very moist bread! Feel free to use raw milk (where legal) and my favorite pasture raised eggs in place of their store bought replicas.
Cast Iron Cornbread Recipe Ingredients:
1/4 cup Plus 2 Tablespoons Lard

1 cup Yellow Corn Meal

1/2 cup All-purpose Flour

1 teaspoon Salt

1 cup Buttermilk

1/2 cup Milk

1 whole Egg

1 Tablespoon Baking Powder

1/2 teaspoon Baking Soda



Preparation Instructions
Preheat oven to 450 degrees. Heat lard in an cast iron skillet. Combine corn meal, flour, and salt in a mixing bowl. In a separate bowl, combine buttermilk, milk, and egg. Add baking powder and baking soda. Stir all ingredients together. Add ¼ cup melted lard, stirring constantly. Pour into hot cast iron pan, smoothing surface with spatula. Bake the cast iron cornbread for 20 to 25 minutes or until golden brown on top.
Here are the steps (more or less) in pictures:
Heat the lard in a cast iron skillet.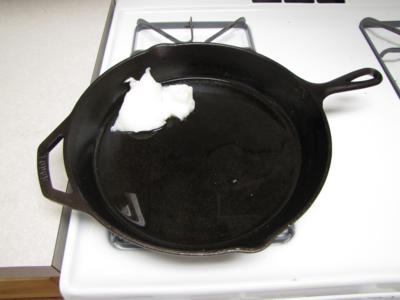 Mix dry ingredients and then mix wet ingredients. Then combine all ingredients together.
Cook the bottom of the cornbread over heat for about a minute, (you should see a few bubbles).
Bake at 450 degrees for 20-25 minutes.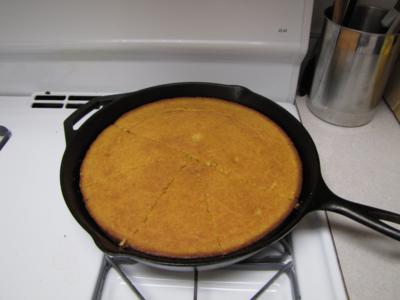 Serve with local honey!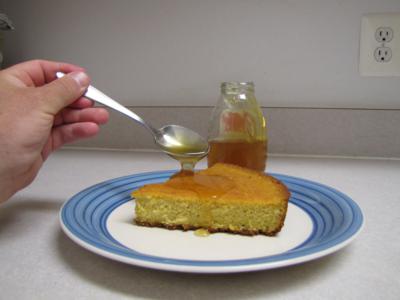 The key to success of this cast iron cornbread recipe here in my opinion is the cast iron. Give this recipe a try and let me know what you think down in the comments section. I am sure that this cast iron cornbread will happily satisfy the hardest working homesteader appetite.
Wilson
Pro Deo et Patria