When you have a to-do list of home projects you need to complete, the decision to DIY or outsource is important. Whether the project is small (like replacing a porch board), or large (like adding onto your home), both DIY and outsourcing will present unique pros and cons. Before reaching a decision, thoroughly research what to look for in a professional. Also, carefully assess exactly what you're getting into before you start a DIY project.
Opting to Outsource Your Home Project

If you opt to outsource your project, you'll want to find a reputable contractor. The best way to find one is to seek out previous clients for referrals. Ask friends, family, and coworkers if they have recommendations. You can also check the Internet for ratings and reviews. Make a phone call to each one as your first step in narrowing down your list. You'll want to ask if they can handle the scope of your project and when they can begin. Also request a list of references.
After the calls, you should have a list of three or four contractors to interview in person and get bids. You can use an online cost estimator to make sure the bid they've given you is reasonable. Once you've met with potential contractors, know that simply going with the lowest estimate may not be the best course of action. Consider cost and trustworthiness when choosing the person for the job.
Deciding to DIY Your Home Project

The first step if you go the DIY route is to ask family and friends who have completed similar projects, says Bankrate. You can also visit a home improvement store to get advice, read a book, or check online. Be knowledge about every step, including planning, design, demo, purchasing materials, and more. They key to a successful DIY project is to start competent and confident.
Generally, you'll save money by deciding to DIY over bringing in a professional because you're eliminating labor costs. You'll need to purchase materials and tools. To get the best prices, shop around before you buy. A risk of DIY is making mistakes that make your DIY project more expensive than if you would've hired a professional from the start. This is why it's crucial that you're competent from the beginning.
Since professionals are able to work full time compared to you working part time to complete a project, you'll probably take longer than a professional. Also, a professional won't be slowed down by a learning curve. According to Bankrate, a contractor would need about a week for a project requiring 48 hours to complete. On the other hand, a DIYer working six hours every weekend will spend up to eight weeks to complete the same project.
Instead of starting off with a difficult and lengthy project, choose something smaller and slowly work toward something more complex. For example, before you tackle sanding and staining the hardwood floors throughout your house, try your hand at sanding and staining a piece furniture first.
 A Third Option: Subcontracting Home Projects

When trying to decide between DIY or bring a professional, consider a third option – don't completely DIY and don't solely outsource. You can hire subcontractors to take on more difficult phases, such as plumbing and electrical work. You'll work as the general contractor, managing the subcontractors and completing simpler phases, such as laying tile or painting.
Another way to blend DIY and outsourcing is to hire a general contractor and assist with less skilled phases, like the demo and cleanup. Speak with your contractor about other tasks you can help with to reduce your overall project cost. No matter which path you take to complete your project, be knowledgeable about every step of hiring a professional and know exactly to expect if you DIY.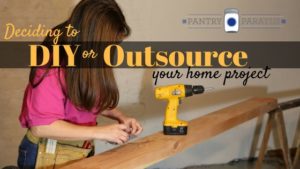 Like this article?  Paul wrote a great post for Pantry Paratus about Sustainability and DIY!
---
Paul Denikin began learning the ins and outs of DIY home repair while making his home better fit and more accessible for his daughter, Maggie, who has special needs. Paul wants to continue to help special needs parents like himself, and offer them a source for ideas. And that's why he created DadKnowsDIY.com, a website that offers home improvement project how-tos and other accessibility information. When Paul isn't being handy around the house, he likes to take Maggie to the movies on the weekends.