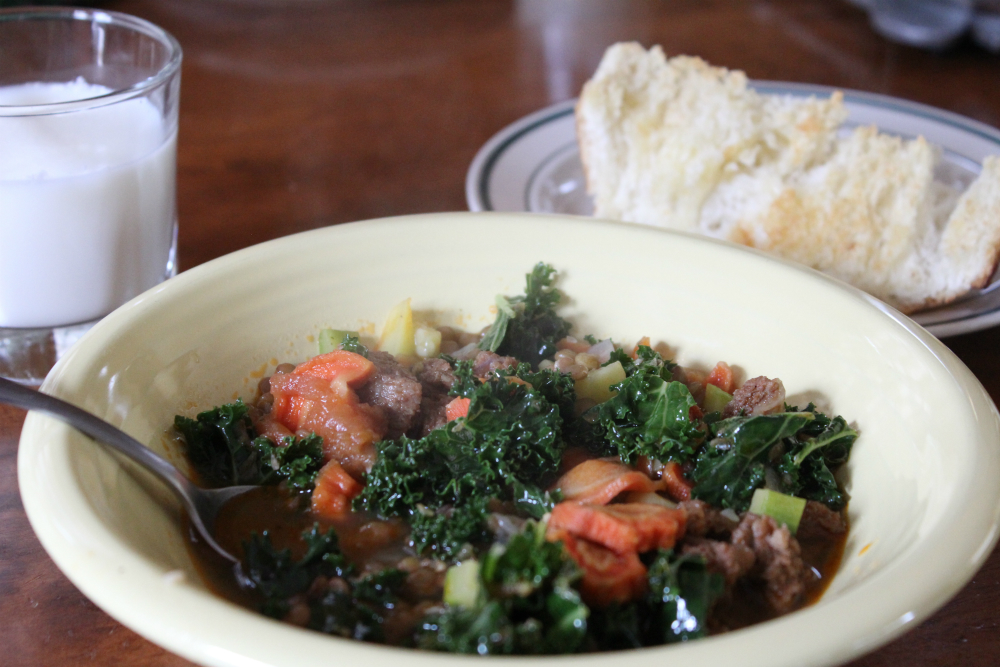 Wow!  This was amazing, and multiple helpings were had by all.  My inspiration, as nearly all good soups are, was based upon a recipe from the book, "Soup Night."  These recipes are fantastic just as they are and I rarely make changes.   I do, however, utilize my food storage to keep up a rotation of it, and this recipe is a perfect mix of flavor and practicality. Enjoy this food storage recipe for the pop of flavor!
I was feeling sassy and re-wrote the recipe you'll find on page 262 ("Vegetable Soup with Andouille Sausage").
We use this cookbook constantly at my house and have not had a single recipe fail.
I made this one using a pressure cooker, which is a necessity when using dried beans at high altitude.  If you do not live at high altitude and have success just by soaking them the night before, go for it!   I used homemade broths, dried beans from food storage, dehydrated herbs and vegetables, along with fresh zucchini and frozen sausage.  We used Chorizo because of the flavor punch; use whatever you like as long as it gives a pleasant flavor with a kick all its own.
Nearly everything I used is dehydrated or home canned, and this recipe highlights Autumn flavors straight from the garden; along with the food storage foods, you will add some finely diced zucchini and kale straight from your late season garden.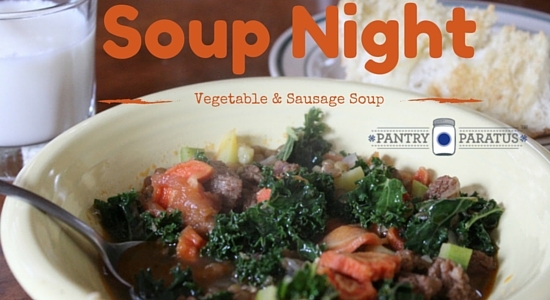 Vegetable & Sausage Soup
(Food Storage Recipe)
With dehydrated, pre-chopped ingredients, 20 minutes!
1 qt homemade chicken broth
3 cups homemade vegetable broth (or water)
1 cup dried lentils
1/2 cup dehydrated onion (or 1 medium fresh)
1/8 cup dehydrated celery (or 1-2 stalks, fresh)
1 cup dehydrated carrots (3 cups chopped fresh)
1 tsp salt
1/2 qt stewed canned tomatoes (or 2-3 fresh)
1 medium zucchini, cubed small
3 Chorizo Sausage Links, chopped
2-3 fresh garlic cloves
Fresh Kale
 In Skillet, saute garlic, onion, and sausage.  If you did not previously chop the sausage links, do so now.   Turn down heat and simmer until onions are carmelized.
 In pressure cooker, add lentils, carrots, tomatoes, celery, broth and water, and the skillet mixture.  Add salt and secure the lid onto the pressure cooker.
Cook the soup according to pressure cooker instructions.  20 minutes or less based upon altitude (for us, 15 minutes).
Serve with shredded Parmesan cheese, if desired.
Need more inspiring soups?  Get the book: