Three Healthy Meals for Your Meal Plan
Guest Post by: Hannah Brock, blogger for Lavilin.com
On the never-ending quest to eat healthier and cleaner, it can seem like you're constantly being denied the foods you love the most. Be deprived no more–here is a full day meal plan of wholesome, delicious, and healthy meals that will leave you satisfied and full of energy. In fact, these healthy meals can easily coincide with a GAPS diet, and they can also serve as a Paleo meal plan! These recipes will become family favorites are versatile enough to meet your dietary needs.
photo: paleoplan.com
Breakfast: One of the most coveted breakfast items is pancakes. Here is a recipe to remake your favorite childhood breakfast without all the processed flour. There are many pancake recipes online and you can easily tailor it to make your flapjacks to your liking.
1 ripe banana

2 eggs

3 tbsp of almond flour (you can also substitute natural almond butter)

dash of cinnamon
Simply mash the banana prior to mixing the rest of your ingredients. Cook them in a pan as you would for regular pancakes and when they're done top them with your favorite fruit toppings or even natural peanut butter!
Lunch: Keep it simple by putting a twist on a classic sandwich. Swapping the bread for romaine lettuce heads and mayonnaise for avocado will add more flavor and crunch to your next mid-day meal.
2-3 washed romaine heads

onion slices

tomato slices

one-half sliced avocado

salt and pepper to taste

optional protein that isn't processed deli meat (i.e. grilled chicken)
Customize your lettuce wrap by adding or swapping out certain veggies. If you don't include protein in your wrap you may want to snack on some nuts to make up for that.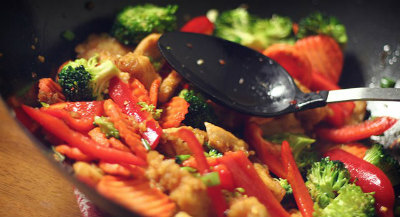 photo: paleodietrecipe.com
Dinner: Making dinner at home is the easiest way to make sure you are eating whole foods and ingredients, not manufactured products. Whip up a quick Asian stir fry with brown rice to finish your day of healthy eating.
Brown rice (or "Paleo Rice")

Seared tuna or whole protein of your choice

Onion

Red peppers

Yellow peppers

Orange peppers

Sliced carrots

Sesame oil for cooking
Dice up your veggies and cook all together in a pan, sear your tuna separately, serve together in a bowl on a bed of brown rice.
Use these recipes as guidelines for simple, whole ingredient meals that you can customize to fit your taste or meal plan.
Enjoy!
Hannah Brock
You can follow Hannah's blog at www.Lavilin.com.
Pantry Paratus has the tools and resources you need to eat healthy! Find what you are looking for by browsing our store menu on the left!

Photo Credits:
Photos are submitted for this blog by the author.
"Pancakes for a Paleo Meal Plan" is taken from www.paleoplan.com
"Stirfry for a Healthy Meal" is taken from www.paleodietrecipe.com

---
---
Note: Blog and photos were provided by Hannah Brock and are not property of Pantry Paratus.
Proviso:
Nothing in this blog constitutes medical advice. You should consult your own physician before making any dietary changes. Statements in this blog may or may not be congruent with current USDA or FDA guidance.