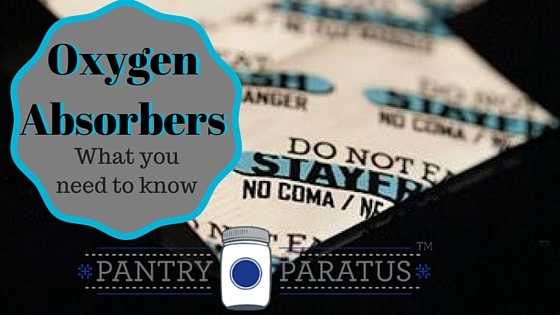 Have you ever used oxygen absorbers at home, or are they just the thing you chuck from the bottom of the beef jerky bag? There seems to be some confusion about the point of oxygen absorbers, whether you need to use them, or under what circumstances. But your friendly kitchen self-sufficiency expert is going to help you out <waving—that's me!>.
What is an Oxygen Absorber?
Don't get confused between terminology. First, what an oxygen absorber is not: a desiccant is something that absorbs moisture. There are several types of desiccants (nearly all made from Silica, a naturally occurring agent that is usually non-toxic)—some I want nowhere near my food and some I don't mind. Maybe we'll talk about that another day. I don't personally use desiccants in food preservation, choosing instead to use time-tested preservation techniques like keeping food well-sealed in a climate controlled area.
Oxygen Absorbers (sometimes called an "oxygen scavenger"), in contrast, suck up all of the loose air in the sealed container. It combats the most common of all food storage enemies (your others being light, extreme temperature, and vermin—eeewww).
Why should you use Oxygen Absorbers?
Oxygen absorbers extend shelf life, prevent rancidity, delay oxidization, and even helps to preserve the best flavor.
Most people who lose food storage lose it to oxygen. Sometimes a jar lid didn't seal, and sometimes the mylar bag or vacuum sealed bag gets a tiny little leak. I've discovered this stuff in both long and short term food storage. Sometimes it's user error during processing, and other times it is just the effects of other conditions (like temperature fluctuation in your storage, or jostling the food around).
An oxygen absorber isn't a permanent fix in situations where you have faulty packaging, but they can buy you time. Do you check your food storage routinely? Do you rotate it so that you are using oldest food first, and are you routinely using your food storage in your daily cooking? All of this prevents loss.
Get our free pantry checklist. Minimize loss by knowing what you have.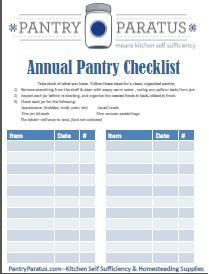 An oxygen absorber delays loss. It isn't a permanent fix; it gives you time to find the problem before losing your food. It's insurance. If you aren't actually checking your food, rotating it, or routinely using it, then never mind. Don't bother with using an oxygen absorber at all if you don't inspect. You're going to lose a lot of food no matter what.
This is where I pull out my best Mom-Speech about starving children in India.
When should you use Oxygen Absorbers?
All dry, home-packaged food that you plan to keep for 3 months or longer should have an oxygen absorber in the container. This includes dehydrated food, herbs, spices, grain, rice, flour, and salt. There are only two dry items that should not get an oxygen absorber: do not use them in sugar or brown sugar. They dry them out (even though they are not actually desiccants).
What Packaging Should Get an Oxygen Absorber?
Well, anything that stores dry food, but the type of packaging is dependent upon the frequency of access. For instance, all of the dehydrated foods and herbs that I am not currently using get vacuum sealed. Then I place several of those vacuum-sealed bags into a larger, sealed mylar bag (to block out light and to protect from mice and insects). Each individual vacuum-sealed bag gets an oxygen absorber.
If you're putting your food directly into smaller mylar bags, put an oxygen absorber in that. Stuff going into the freezer—if it's a dry item (like yeast, flour, etc), chuck one into the container.
My frequently-used stuff—like dehydrated onions, powdered vegetables, and bulk spices—all get an oxygen absorber in the mason jar. This isn't keeping the food perfectly oxygen free. I am, after all, opening that jar fairly often. It does drastically extend the shelf-life though! I find it also keeps spice blends from getting clumpy (again, working like a desiccant even if they aren't). The tip to this use is to remember to open and close the jar expediently.
What size of Oxygen Absorber Should I Use?
Anything a quart-sized jar or smaller, a single 50cc is perfect. If you are packing something larger or something with natural air space (granola vs. dense salt), you might want to double up. When you reach the size of a #10 can, you should use three 50cc absorbers.  They come 200 in a pack, and if you re-seal the package as soon as you're done with it, you'll be using that same package for awhile.
Use 500cc Oxygen Absorbers for buckets. Wheat, rice, oats, all of which naturally last a long time anyway, should get at least 1 500cc absorber. We often use buckets for storing lots of smaller, sealed food bags. It provides another layer of protection. Wilson always chucks a 500cc absorber in the bucket anyway, regardless that every individual bag contains one. "Cheap insurance," he says. We have never lost a bag of food sealed in a bucket with an absorber on top.
What is the Process of Using Oxygen Absorbers?
Fast. You use them fast. Wilson and I have a system for this that <yes, we're dorks> is really fun! When we're preserving food, it is rarely a bag here-and-there. Oh no, we go big.
Always preserve large quantities of food in smaller, manageable portions. Putting all of your eggs in one basket (I couldn't resist) is never a good idea. If a mouse gets in to a 10 lb bag of oats, you've lost them all. Packing 10 one-pound bags is far more economical in the long-run. So this is how you do it:
Place all of the jars or vacuum sealing bags on your table.
Wearing gloves, fill all of them with the food to be preserved (using a funnel prevents spills and loss). Gloves, prevent your oils or moisture to contaminate the food.
Put the jar lids next to the jars, or have the vacuum sealer ready to go and warmed up.
One person opens the bag of absorbers and drops one quickly into each container.
The other person runs behind, sealing lids or vacuum-sealing (a bit slower).
Once you are done using them from the package, be sure to re-seal that package so that the leftovers will be there when you need them 6 months from now.
Okay, so now you understand the value of using oxygen absorbers to prevent food spoilage–pick up a couple of packs from Pantry Paratus & incorporate them into your food storage plan!