Pantry Paratus Pita Bread
Years ago, Wilson and I lived overseas. A trip into town typically resulted in "street food"—warm, chewy pretzels or "pommes frites" (French fries), hazelnut gelato or a crepe with Nutella. Our favorite mealtime fare was a "doner kebab".
The term doner kebab is a broad one that spans several mediterreanean traditions and I have yet to perfectly recreate my European comfort food because of the massive expanse of sauce and meat recipes out there all bearing the same name. It is a quest, to be sure. If any of you have a recipe that you think tastes like something bought on a German street corner, please let me know!
Last week, in a moment of craving, I made a fake-out using ground turkey meat. It didn't compare to the lamb meat on rotisserie, but hey—using a standard tzatziki sauce recipe, it was yummy.
I do have a wonderful pita bread recipe that I've been making for about six years, and I want to share it with you.
Pantry Paratus Pita Bread
Preheat oven to 450 degrees.
2 ½ cups warm water
2 tsp active dry yeast
2 tbs honey
6 cups home-milled wheat flour (hard red or hard white) (plus extra for dusting)
1 tbs salt
1 tbs Olive Oil (plus extra to coat bowl and baking sheet)
* Combine water, yeast, and honey. Let proof for 5-10 minutes.
*Stir in 3 cups of the flour, drape towel over bowl, and let sit for 15-30 minutes.
*Sprinkle salt over the dough, and add in the olive oil.
*Add in remaining flour, turn onto floured surface.
*Knead about 5 minutes until smooth and elastic.
*Form into ball and place back into the bowl, coated with olive oil.
*Cover and let rise for approximately 1 hour.
*Punch down, divide into 8 equal pieces.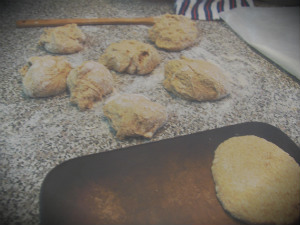 *Roll each piece into a ball and roll out flat; place of oiled baking sheet. Let rest for approximately ½ hour.
*Bake for 3-4 minutes each at 450 degrees.
Enjoy–
Chaya
*All Pictures are Property of Pantry Paratus, Inc.
img style=
tzatziki
nbsp; /p