Edna joins us again to share her tips for making the most of storage in small kitchens. 
---
If you have a small kitchen, you should organize it so that the utensils and tableware in it take less space. Let's discuss some ideas on how to store your pots and pans so that they will be handy without taking up too much valuable room.  Use one of these ideas to make your kitchen tidy and functional. Once organized, cleaning your kitchen after use will take less effort and take less time.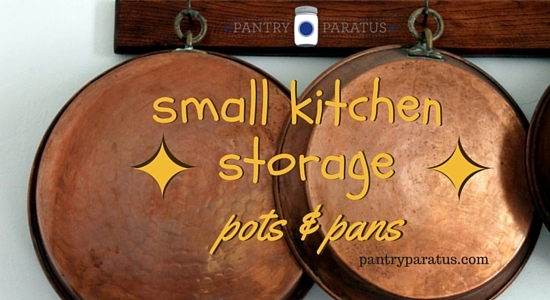 Hanging Racks
Here's a common idea that might take some creativity to employ: you can hang your pans using hooks attached to a metal shelf over your worktop. There should be enough space to hang all of your pans, your kettle and even your french press. If you don't have a rack, mount a metal one on your wall over the stove or whenever you decide. You can mount a hanging rack on your ceiling and use it to attach your pans and pots. Just be sure to mount it securely to support the weight.  There are many pot racks which are designed to be mounted on the wall, sold in stores; buying a rack designed for this purpose will ensure it is sturdy.
Metal Hooks
Use metal hangers nailed on your wall or mount a metal rack with hangers to store your pans. Your pans will dry faster and be clearly visible. If you have large drawers under your cooker or such built-in in your stove, use them to store your tableware. Pans and pots will take less space if you put them one in another. The easiest and cheapest way to store your pans and pots is by nailing a few metal tacks to hang them.
Cupboards
Cupboards with enough space and open shelves without doors are suitable to keep your kitchen cooking utensils and lend a sweet utilitarian look to your space. To save more space arrange them one over the other starting from the largest one which should be at the bottom. If you don't have enough cabinets in your kitchen, buy and mount shelves on the walls or hang racks on your ceiling. They will offer you plenty of space to keep all of the cooking utensils you have. Mounted from the ceiling, pots and pans will take less space. This is suitable for kitchen with high ceilings.
Shelves and…Curtain Rods?
If you have corner cabinets or non-corner ones, use them to hang your pans with hooks and place the pots on the shelves. It saves place and makes the utensils visible enough to find them easy at need. You can store the lids of pots and pans using curtain rods, mounted on the wall. Pots and pans will take less space if you put them on metal racks in a cupboard under the sink or stove. Open shelves around the sink or elsewhere in the kitchen are perfect for storing large cooking items like pots and pans.
Drawers, Hooks, & Cabinets
Drawers, hooks, cabinets, hanging pot racks and railings are perfect for keeping your pots and pans. There are various metal organizers, sold in stores which are designed for this purpose. You can place them in your kitchen cabinets with the rest of the cooking utensils or put the organizers on your worktop. Keep the lids of all pots and pans in a separate place: this may be a large container of the basket type.  Chaya from Pantry Paratus says that she keeps only lids in the drawer under her oven.  Pot racks, mounted on the wall, save a lot of space and are very functional.
If you succeed to keep your small kitchen tidy and well organized, it will be easier for cleaning, plus you will find what you need faster. Using these ideas for saving space, you can keep your pots and pans at hand, mounted on the wall, hanging from the ceiling, arranged one over the other in shelves or cabinets. Open shelves gather grease and dirt very easily and are difficult for cleaning and maintaining. On the other hand, they are very appropriate for small kitchens because they can store a lot of items.
Need More Help?
Storage Hacks for the Kitchen & Beyond
4 Days to a Spotless (and Efficient) Kitchen
9 Steps to an Organized Pantry
---
These tips and ideas come to us from Edna Thomson. She runs a small company called PromptCleaners Hendon.
Read her last article on Pantry Paratus…DIY Tile & Grout Cleaner.