Vegetable Powders
Making Them, Using Them, and Long-Term Food Storage



The Moms were eating lunch while the kids—claiming they were full—exited to play tag.  The subject  discussed was by no means gloriously thrilling.  Spinach.  We were talking about spinach.
"I got it on sale, overbought it, and not even the husband will touch it.  I am doomed to salads three meals a day for a week." 
Nods of sympathy. 
I asked if she had a dehydrator; no, but it is on the wishlist she said.  I nearly prefer spinach in its dehydrated form because it makes for great pasta (or my meatballs with bechamel sauce) and is a wonderful nutritional boost to anything while the family is completely oblivious.  Sure, some might say it's a passive-aggressive way to achieve optimal health; I prefer the term clever.   I do not think most nutrition should be sneaked; kids should understand what constitutes a healthy diet and be encouraged to eat fresh, raw fruits and vegetables.  However, complex flavors unaware to them will ultimately expand their palate so that the next time you introduce that icky green, it won't seem so foreign—or icky.  I have personally experienced this.
 And it started with vegetable powder.
My kids were not keen on spinach, but I found that powdered spinach could work as a thickener and, if in small amounts, boost the nutrition without changing the flavor (color but not flavor).  Over time, I got lazy and then used it as flakes; I think they know it's in there.  Like I pretend not to notice stuff the kiddos do on my weary days, I think they pretend not to notice the increased spinach flakes.  Maybe I'm wearing them down.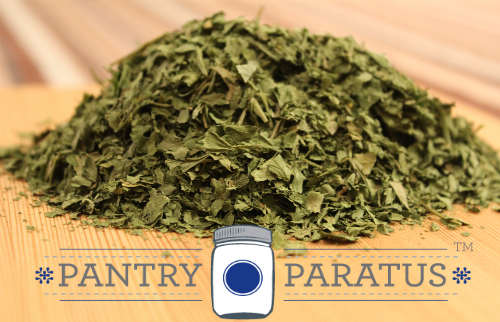 And just like my children increase the actions to which I turn a blind eye, their silence has only emboldened me.  Why stop at spinach?  Tomatoes, carrots, the possibilities are endless!  I personally powder celery, onion, garlic, tomato, carrot, and spinach.  A few weeks ago I got 5 pounds of asparagus from the local co-op.  I checked in my "Preserve It Naturally" book (which comes with an Excalibur from Pantry Paratus), and guess what????   I can powder asparagus for use in soups!  I really had no plan when I ordered 5 pounds of asparagus.  It just sounded good.  Other great soup and sauce additions are green beans, broccoli, cucumber, peas, and peppers.
 I was a primary caregiver for a child that was underweight and came from a difficult circumstance.  She just would not eat.  In desperation I turned to a  cookbook that, although had  some poor nutritional suggestions in it like vegetable oil, was written on the notion of making vegetable purees that could go virtually undetected in nearly anything.  I made spinach brownies and chickpea chocolate chip cookies, stuff like that.  The difficulty was that the pureed vegetables had to be either refrigerated for immediate use or frozen.  This, for me, was not practical.  In fact, we wrote a whole article about the hidden costs of the deep freeze (which do not even include things like losing food to freezer burn or power outages). 
Enter the Excalibur Dehydrator.  Seriously in love.  But if you really wanna hear me gush, go check out this article.  
Beyond the nutritional boost from powders, here are a few other reasons I love them:
To use as a thickener to soups, stews, and casseroles
To add a depth of flavor in unsuspecting ways (carrot powder is great in meatloaf, for instance, and a little is great in your oatmeal cookies)
Vegetable powder is seriously boots long-term food storage because its density means less quality-compromise from air exposure, and is far less bulky.
Wonderful for thickening (and nutri-boosting) your smoothies
I can jump on great vegetable deals without panic that I have more than I can use

 To make Vegetable Powders: Check the food-by-food list in the Preserve It Naturally book available at Pantry Paratus, to determine the best method for that specific food.  If the food requires blanching, see the basic method here.  Here's a basic breakdown, so you know what you are getting into:
Spinach and other leaves (herbs, raspberry leaves, kale, etc) get a rinse and then go straight into the dehydrator.  To powder leafy greens you can pulse them in a food processor,  break them up with your hands, or use a mortar and pestle.
Garlic and onion get sliced or chopped, and then you simply arrange them onto trays.  Once dehydrated, pulse in a food processor or use a mortar and pestle for small, immediate-use quantities.
Other vegetables such as carrots and asparagus should be cooked (boiled or steamed). Once cooked, you can puree them and spread onto a paraflexx sheet.  This is by far the simplest method, although you can blanch, slice, and dehydrate.  However, I find that dehydrated sliced vegetables are more difficult to pulse into a fine powder.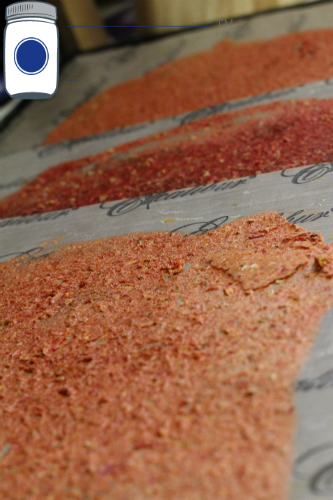 Once these vegetable leathers have dehydrated to a dry crispness, you can use them in cooking as sheets or flakes, or powder them using a food processor or mortar and pestle.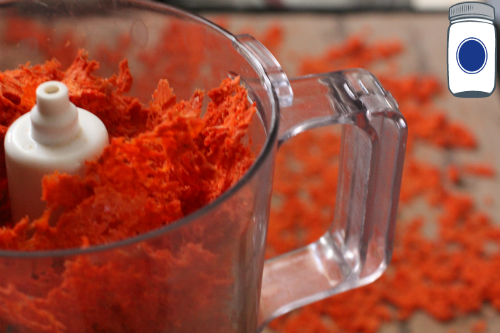 Tomatoes and zucchini can be done to your preference; cooked or raw, peeled or unpeeled, sliced then in food processor, or as vegetable leather.  My preference for these is to puree, make leather, and then keep some as sheets and powder the rest.
Some Basic Guidelines:
1)      Dehydrate the food item according to specifications given in Preserve It Naturally until it passes the "clink test."  Many foods should snap when you break them, and you can check them by dropping onto a table.  If they make a clinking sound, you have sufficiently removed the moisture. 
2)      Some foods will powder easily with mortar and pestle, but a food processor will be required for most foods and for larger quantities. 
3)      Store the powdered vegetable in vacuum sealed bags for long term food storage, and mylar bags will help eliminate the light and other variables.
4)      For immediate use, place the powder in a pint-sized jar with an oxygen absorber and keep it away from heat, steam, and light.

Put this on your calendar for this week.  Then come back here and share your ideas with us!
Produce, Prepare, and Preserve,
Chaya
Proviso: Nothing in this blog constitutes medical or legal advice. You should consult your own physician before making any dietary changes. Statements in this blog may or may not be congruent with current USDA or FDA guidance.