Growing an herb garden from scratch is an easy way to go about it.  Many herbs can be grown with little sunshine, and water drains off very well from their soil on the average. They also require some watering and fertilizer or compost on a regular basis and some regular garden care. Your biggest worry is if they become too prolific (as the case with mint, and a few others–just pot & gift to an unsuspecting friend).  Growing an herb garden is an awesome idea, when it comes to the true meaning of simple gardening.
How does one grow a herbal garden from scratch?
Follow a few guidelines; simple as that.
#1 Growing an Herb Garden in The Right Soil
Because many have a ground-cover nature, herbs are gardening at its easiest and most simplest of all gardening maintenance. Growing an herb garden is even possible in nothing more than pots.  However, a good many herbs do fare far better if they are planted into the ground in some very good soil that is rich and fertile.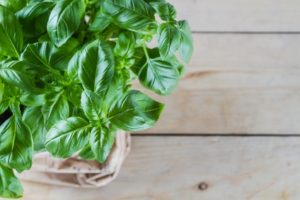 #2 Growing an Herb Garden with Good Planning
Herb planting is not difficult, either. Gardeners can transfer them straight from their original pots or holder and place them into the ground, watering well. Herbs prefer the ground to a pot because they not only grow, but spread out all over the place. Plan your varieties well, because they can grow to be quite large (from 4 to 6 feet in description), which is another argument for utilizing a garden patch outside. It's not saying that they can't be grown in pots, but for some reason, their growth is stunted and they seem to get stressed out.
#3 Growing an Herb Garden with Proper Maintenance
Weed control is, of course, essential to keeping your herbs alive and protecting them from harm. Weeds have the nasty habit of appearing where you least want them to be, and you need to manually take care of them. Do avoid the use of pesticides and herbicides as this will, naturally, ruin the herb itself. Chemicals are not the way to go when caring for your garden – actual hand care does the trick.
Herbs are some of the easiest of all plants to deal with on the average. They don't require lots of garden care and aren't complicated at all.  If anything, those who are just starting out in gardening should first try his or her hand at planting a little herbal garden from scratch. The results can truly be amazing for novices who want to try their hand at gardening for the first time. So roll up your sleeves and delve into this new world your garden can offer to see how reliable of a gardener you are.  You will enjoy the fruit of your labor–both with its beauty and charm, and then again with the harvest.
---
Ella A. is dedicated writer, blogger and aesthete who finds her greatest inspiration in gardening and home decorating projects. She likes to discover beauty everywhere around and this is what gives her huge motivation for her work. Find here some more of her tips and hints on caring for your garden: http://gardenerselmersend.org.uk/