Mix-A-Meal Cookbook: Homemade Onion Soup Mix
Onion Soup Mix for people who want to pronounce what they're eating
If you try to use whole ingredients, there are a few cheats –one is "do ahead" recipes that allow for the convenience of store-bought products but without the high yuck factor or price tag.
One of my favorite homemade "convenience foods" is a recipe that I snagged from the Mix-A-Meal Cookbook by Deanna Bean and Lorna Shute. But before I get into this recipe, I want to first highlight the nastiness of the store-bought stuff.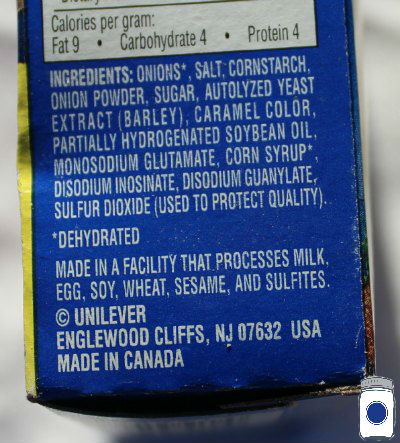 That ingredients list came from a box of the Lipton onion soup mix. Poison in a box. Whether Lipton's version of onion soup is worse than others I do not know, but store bought onion soup mix is poison. How many of these ingredients can be grown in a garden?
The convenience of onion soup mix (beyond the soup itself) is high, and there is a layer of complexity and flavor that even my onion-hating children enjoy. My adaptations make this a vegetarian onion soup & dip mix

.
Here are a few suggestions:
Meatloaf
Swedish meatballs
Potato chip and vegetable dip
Mix with bread crumbs to coat meats
Mix with melted butter for your baked potato
Mix with melted butter for a light pasta sauce for pasta (especially with some garden-fresh tomatoes tossed in and some grated Parmesan sprinkled on top).
Rice
So many of the Mix-A-Meal recipes call for dehydrated ingredients that we readily have available at home, thanks to the Excalibur (which saves serious cash)! Oh, and I must mention that most of the recipes in the Mix-A-Meal book make excellent gifts, this one included. I never do a single jar at a time; I like to keep my pantry well-stocked.
I have adapted the Mix-A-Meal recipe slightly below, but you can find this basic recipe on page 34 of the book:
Onion Soup Mix
Combine:
2/3 cup dehydrated chopped onions
1/2 cup Frontier Vegetarian Beef Broth (any powdered beef broth will do, but source this well!)
1/2 cup Frontier Butter Powder
2 Tbsp Frontier Potato Starch (recipe originally called for cornstarch)
2 tsp onion powder
2 tsp parsley flakes (optional)
Mix well and store in a 1 quart jar. You can use this onion soup mix in a wide variety of recipes!
Are you looking for a pre-made onion soup & dip mix that you can trust? You cannot go wrong with Frontier Brand Onion Soup & Dip Mix!
Looking for more great do-ahead recipes? Get the Mix-A-Meal Book here!
Enjoy–
Chaya
---
Proviso:
Nothing in this blog constitutes medical advice. You should consult your own physician before making any dietary changes. Statements in this blog may or may not be congruent with current USDA or FDA guidance.