Spinach Pesto Salad with Pignolias (Pine Nuts)
Plus the Economical Version of this Make-Ahead Pasta Salad
Confession: I once ate a whole bag of pine nuts.
That would mean little to you unless you have priced them out lately.
Wilson's Nonny always put them in her meatballs and lasagna, and they add a sweet crunch that perfectly balances the flavor of otherwise tangy meals. You can expect to plunk down a $10 dollar bill for only a mere few ounces. My substitute added the same texture and color, with very little difference to the flavor. To be fair, a few can stretch through a recipe and add elegance. Oh, and I am assuming that everyone is using homemade pesto for this recipe too! If you have not priced that out recently, I did. The stuff that I would call comparable to what I make was also over $10 for merely ounces. Never has there been a better argument for having your own herb garden….the price of pesto!
Click on picture for our basic pesto recipe!
Wilson and I recently indulged ourselves with this pasta salad at a bakery. We enjoyed it so much that I recreated it–twice–at home in order to make it more affordable to the family cook.
With homemade pesto and the alternative of slivered almonds instead of pine nuts, you can afford this elegant salad to bring color to the luncheon or buffet table. It will provide a vegetable in your child's packed lunch or that can just serve as something ready-made in the fridge for crazy days.
Spinach Pesto Salad with Pignolias
1 lb spinach pasta, boiled and cooled
1 cup frozen peas, thawed
1/2 cup pesto (if you like this strong, 3/4 cup)
1/4 cup pine nuts OR 1/2 cup slivered almonds
Mix together all of the ingredients. You have a beautiful, nutritious make-ahead dish (and for pennies-on-the-dollar from the bakery version)!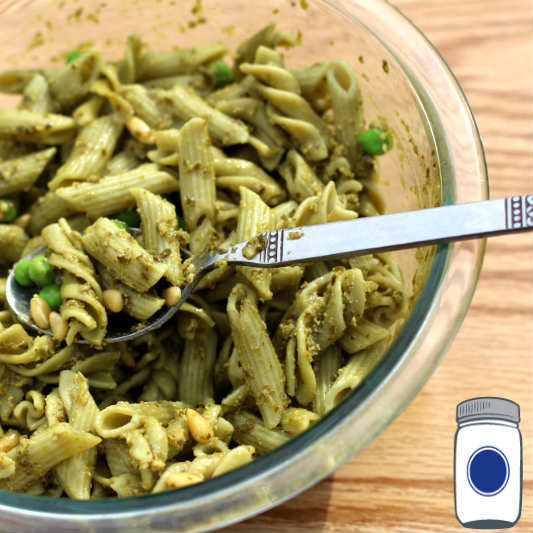 Enjoy,
Chaya
---
If you want to pin, tweet, or share our pictures, please include a link to this blog. Thanks! All pictures, unless otherwise stated, are property of Pantry Paratus. Here is the exception:
pignolias: JaBB via photopin cc
---
Proviso: Nothing in this blog constitutes medical advice. You should consult your own physician before making any dietary changes. Statements in this blog may or may not be congruent with current USDA or FDA guidance.
---