Italian Stuffed Tomatoes with Bacon
An Appetizer, Side Dish, or Main Meal Recipe
This stuffed tomato recipe is a fit-anywhere dish: whether you are looking for side dishes, appetizers, or main dishes, this is a family-favorite recipe that fills the slot–with bacon!
Italian Stuffed Tomatoes with Bacon
15 hollowed tomatoes
1 package thick sliced bacon
6 eggs
½ Tbs sea salt
½ Tbs garlic powder
2 Tbs Italian Seasoning
Shredded Parmesan or Queso Manchego (a sharp, hard cheese), amount to taste.
Do Ahead Steps:



Cooking up the bacon is an easy do-ahead step to simplify your life. Break into 1-2 inch strips.
Grating the cheese is also an easy step for an earlier time, making dinner a matter of minutes to prepare. I recently used Queso Manchego, which is a sheep's milk cheese with a longer aging period. It added its own flavor and elegance to the dish. Really, it is close in flavor to Parmesan (NOT the stuff in the green can), at least—to me it is. I am a cheese lover but not really a connoisseur. Mercy on my ignorance—if you were looking for a good pairing with what you can easily obtain locally, go Parmesan.
40 Minutes Before Serving



Start by hollowing out tomatoes. Reserve all of the innards for a homemade pasta sauce (to go on the pasta on the side, or for another recipe for tomorrow).
In a separate bowl, whip the eggs with all of the seasonings.
Place a couple of short bacon slices into the tomatoes, which you've lined up shoulder-to-shoulder in your dish. Pour the egg mixture on top, and sprinkle with grated cheese.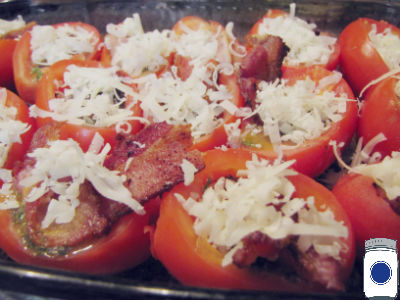 Cook the tomatoes at 350 for approximately 25 minutes, until the eggs are still soft but not a full liquid.
Enjoy!
–Chaya
---
Proviso:
Nothing in this blog constitutes medical advice. You should consult your own physician before making any dietary changes. Statements in this blog may or may not be congruent with current USDA or FDA guidance.