Pumpkin Cream Cheese Oat Bars (or Oat Muffins)
Pumpkin Cream Cheese . . . let's get to baking!
Pumpkin Cream Cheese Oat Bars, I literally invented this one as I went, not even basing it upon or adapting from another recipe.  It was a fantastic surprise!
I started out baking these in my go-to cake pan, and then I ended up with a muffin tin full as well.  It was very good both ways, so I suppose you can just do what suits your fancy.  Pumpkin and cream cheese were both on sale, so I started with what I had on hand.  I think that the topping makes these as delicious as they are—please do not skimp here!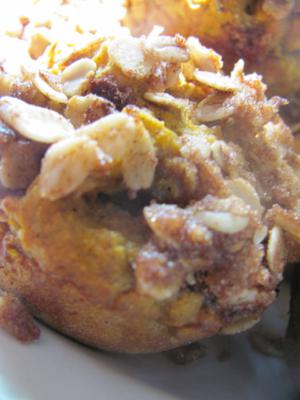 Also, I used half of a box of cream cheese and the flavor was light.  I could envision these being even more decadent though, so if you try it with more cream cheese, would you please leave a comment below and let us know how it turns out?  One other note, I used hard red flour and they were great—but next time I will try soft white, as it is the best choice for a quick bread.  In either case the cream cheese pumpkin combo yield a moist but firm overall product that my kids love with milk as a snack.
Do not be intimidated by the seemingly long list of ingredients—the topping and batter ingredients overlap and these are mostly basics you already have on hand.  You could simplify with "pumpkin pie spice"—if you do, let me know what you think of it!
I have cut the recipe in half, so this should give you either a dozen muffins or a cake pan's worth.
Topping:
2/3 cup old fashioned oats
¼ cup brown sugar
1 tsp cinnamon
2-3 tsp butter, melted
Batter:
1 ½ cups fresh-milled flour
1 cup old fashioned oats
1 tsp baking powder
½ tsp baking soda
1 tsp cinnamon
1 tsp ground nutmeg
1 tsp ground cloves
1 cup sour cream
3 cups pumpkin puree
4 oz (half box) of cream cheese, softened
½ cup brown sugar
¼ cup olive oil
1 egg
 Directions:
Preheat oven to 350 degrees.

Stir topping ingredients and set aside.

Combine dry ingredients (flour, oats, baking powder, baking soda, spices).

In a separate bowl, add sour cream, pumpkin, cream cheese, brown sugar, oil, and egg.  Beat for approximately 2 minutes to ensure blending of the cream cheese and to get air into the egg.

Pour one bowl into the other, stirring lightly.

Pour into cake pan or muffin tins. 
If a cake pan, it will take 30-40 minutes.  If muffins, 30 minutes. 
This pumpkin cream cheese recipe is delicious and easy.  I usually try to make one other baked good item on my bread baking day to get my family through the week with snacks and quick healthy breakfast choices—so this works well either as pumpkin cream cheese bars or muffins!
Give this pumpkin cream cheese recipe a try and let me know how you like it.  This may be my new favorite take-along finger food for get-togethers! 
Chaya
Photo Credits:
All photos by Pantry Paratus