I do entirely too much research. 
It comes from the sense of empowerment this recovering control freak experiences when I learn the basics of the situation at hand, but it creates its own problems.
If I research it: now I know.  Now I am responsible for what I know.  Now I have to make a decision about what I know. If I know it, then something has to change.

People often ask me why we started Pantry Paratus, and they ask about the driving motivations for the crazy hours and consistent requirements.  I think I give a different answer every time.  I can answer that question in no less than 10 different ways (like picking something to wear that day based upon my mood), because each day that I learn something new I gain a fresh insight as to why what I do is so crucial. 
Pantry Paratus is only one small voice in a sea screaming for your attention. You have marketing thrust upon you all day long.  You have family, work, and social requirements and requests made of you all day long.  And at the end of the day, the last thing that likely appeals to you is reading about how that Plan D nastiness you sucked down during your 10 minute lunch is going to kill you because of pink slime or contamination or hydrogenated slop or whatever the Death-Of-The-Week may be.  Who wants to deal with that?

And here we are, Pantry Paratus.   We know that lifestyles are getting busier, and people are getting sicker.  We know that families are every bit as important as they ever were, and family time is at a premium.  So, if you ask me today—right now—"Why do you care about what you do, why Pantry Paratus?" this is the answer I'm going to pick out of my closet:
Pantry Paratus exists because we know that something has to change.  It has to change on your plate to get your health back, it has to change on the dinner table to reclaim the antiquated notions of family connection, it has to change in the farm field to save our soil and our food sources, and we have to work together to change the next generation.
So we continue to research.  We continue to share that with you, and we will continue to provide you with the tools, equipment, and knowledge you need to make the change.  The knowledge empowers us here at Pantry Paratus, and we want to encourage and empower you as you walk beside us.  We are here to rally those concerned consumers to produce, prepare and preserve their own food supply because you understand that something needs to change.

Support what we do, so that we can continue to support you through the food habit changes you make for your life, your family, and your world.
Forever Yours,
Chaya & Wilson
Pantry Paratus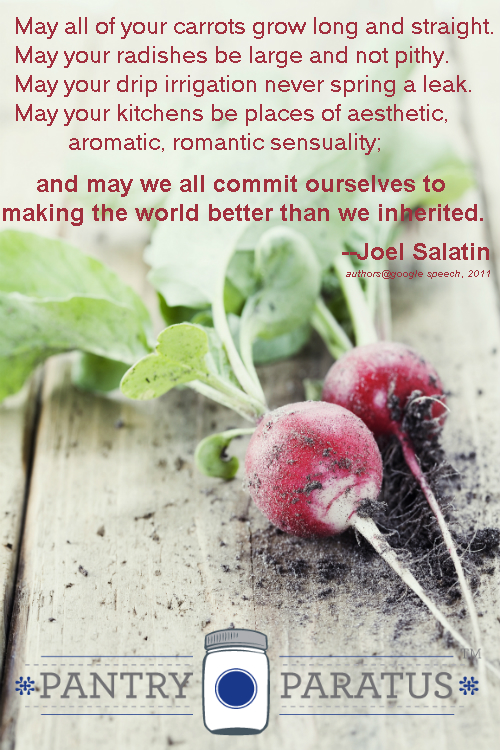 ---
You might also enjoy:
Memoir of a Kid on a Modern Diet…and the journey back to health with real food