Sale!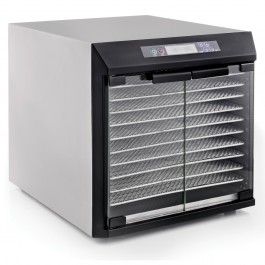 10 Tray Stainless Steel Excalibur
$1,000.00
In Stock
Different than all other Excalibur models, this 10 tray dehydrator is stainless steel for both the exterior and interior.  It comes with stainless steel trays, and features Excalibur's patented Parallex™ Horizontal Air Flow and Hyperwave™ Fluctuation Technology, the most efficient heat/dry combination on the market.  Whereas all other time models give you 26 hours, this stainless steel Excalibur has a 99 hour timer–you can set it and forget it!  No more plastic knobs–this has a completely digital interface.   All of the great American-made features that you have come to love remain unchanged–such as the adjustable thermostat, square design, and position of fan.
Excalibur has brought a "professional unit" to your own kitchen with this Stainless Steel Excalibur
Dehydrator!
More Features:
Free "Preserve It Naturally" book
Free limited 10 year warranty
Unit Dimensions: 17-1/4 W x 20-1/2 D x 17 T (inches)
NSF Approved
Shipping Weight: 66 lbs.
Made in USA
| | |
| --- | --- |
| Weight | 66lbs |
| Length | 17.5in |
| Width | 17.25in |
| Height | 17in |
Related Products